This post contains affiliate links. This means if you buy a product we recommend we may earn a commission. This doesn't cost you anything, but it does help to pay for this website, helping us to keep bringing you all of the best tips and advice. Read more here.
If you need to know how to calm a Jack Russell terrier they may be taking over your life and making it difficult to get anything else done. There are different ways to tire out your Jack Russell terrier, but our favourite tricks are based on three important elements that target the physical and mental activity of your dog and initiate the energy-burning process. These three elements are;
Socialization
Mental Stimulation
Physical Exercise
All of these are important, and you must consider them while making an exercise plan for your Jack Russell Terrier. 
Although the Jack Russell terrier is a good breed to have, even experienced pet parents find it quite difficult to train a Jack Russell terrier for the amount of work you have to put into them to keep them busy. But once you are on track, they are the most affectionate and lively dogs to have in your family. They make great companions and keep you as busy as they are!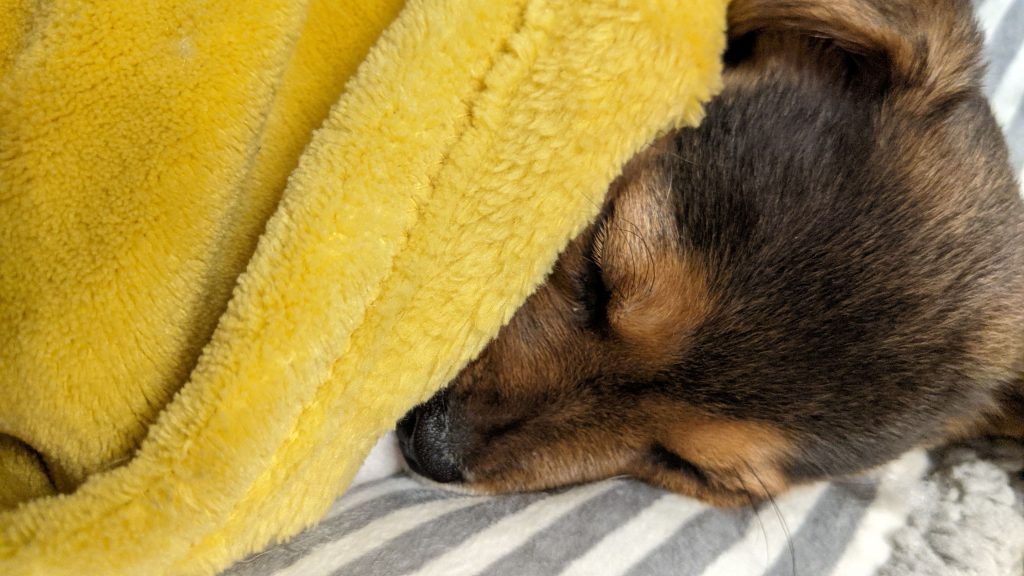 Our favourite 8 tricks based on our own experience are;
Running and Walking are Key Elements!
How to exercise a Jack Russell terrier? For most dog breeds running and walking are enough for them to tire out and complete their exercise plan, but for Jack Russell terriers, it is the bare minimum of exercise you can give to your dog. They need to burn energy otherwise they may have problems with excessive barking or separation anxiety.
Swimming is the Best Way of Spending the Day!
How much exercise does a Jack Russell need? The short answer is a lot. Water exercises are somewhat more strenuous than the land exercises as water act as a resisting force, and your dog has to burn more energy. Teaching a Jack Russell terrier to swim is a great addition to your exercise plan. But it isn't necessary to swim every time you see water; playing beside a beach or a pool is a great way of stimulating and exercising your pup.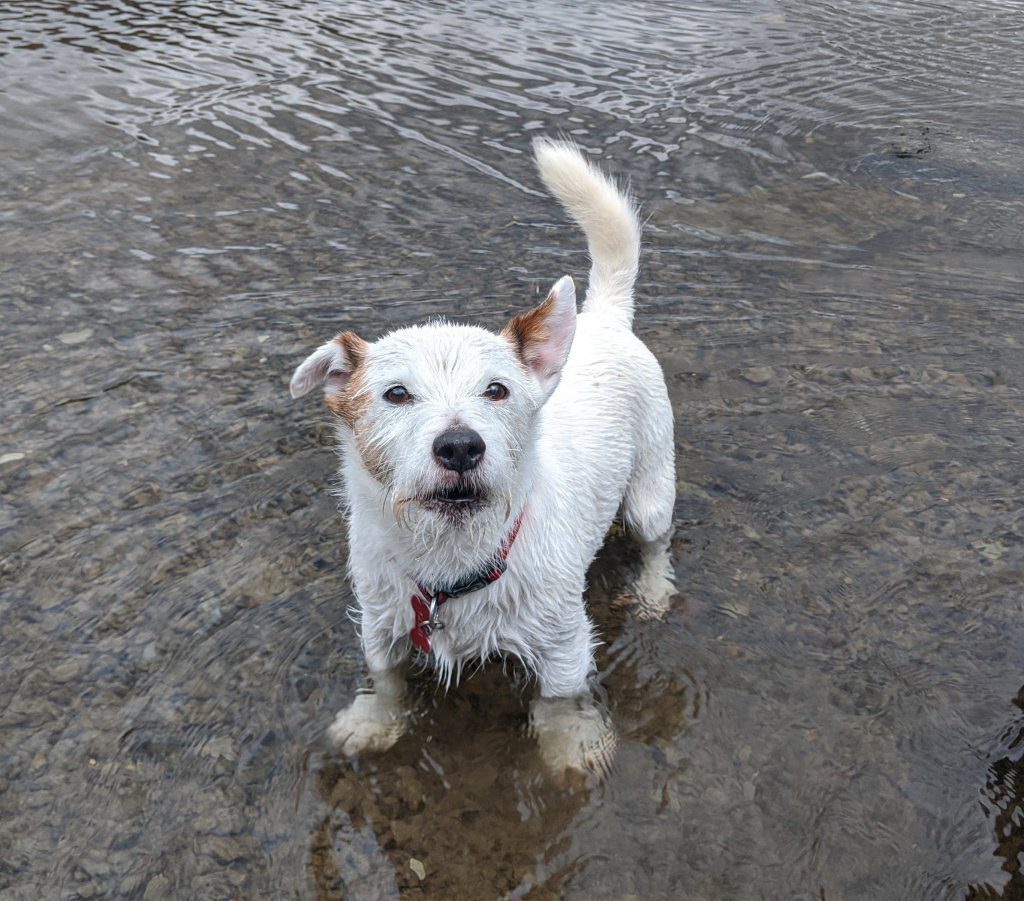 The Training Never Stops
If your JRT is not familiar with any commands, start with teaching him the basic commands and then shift to more advanced training. Even if your terrier knows all the commands and has trained well, don't discontinue the process; make him practice whenever he can. Read the full guide on how to train a Jack Russell terrier the right way here.
Stimulate the Mind to Bring the Calm
Jack Russell terriers need both mental stimulation and physical exercise to keep them sane. If your dog behaves negatively even with sufficient exercise, they may be missing the mental stimulation part, and you need to work on it with fun training games. These help to build the bond between you and your dog and establish ground rules that you can both see rewards from.
Let your Yard Help you Out!
People who have a yard with good fences should definitely utilize their outdoor space to tire out their Jack Russell terriers. You can set your yard so that it gives passive training to your terriers without you having to tire yourself out. Just make sure that your yard is safe for your dog; you might not want him to injure himself in the process.
Toys are great for Building Interactions.
How to keep Jack Russell busy? We can't always be around to play with our dogs and that's where toys come in. Some Jack Russell terriers are not that interested in toys, and you have to develop the interaction between your dog and the toys. Buying durable and safe toys is a great way of developing a great connection, as your dog might not play with something that might harm it in one way or another. Read this guide to the must have essentials for Jack Russells including indestructible chew toys.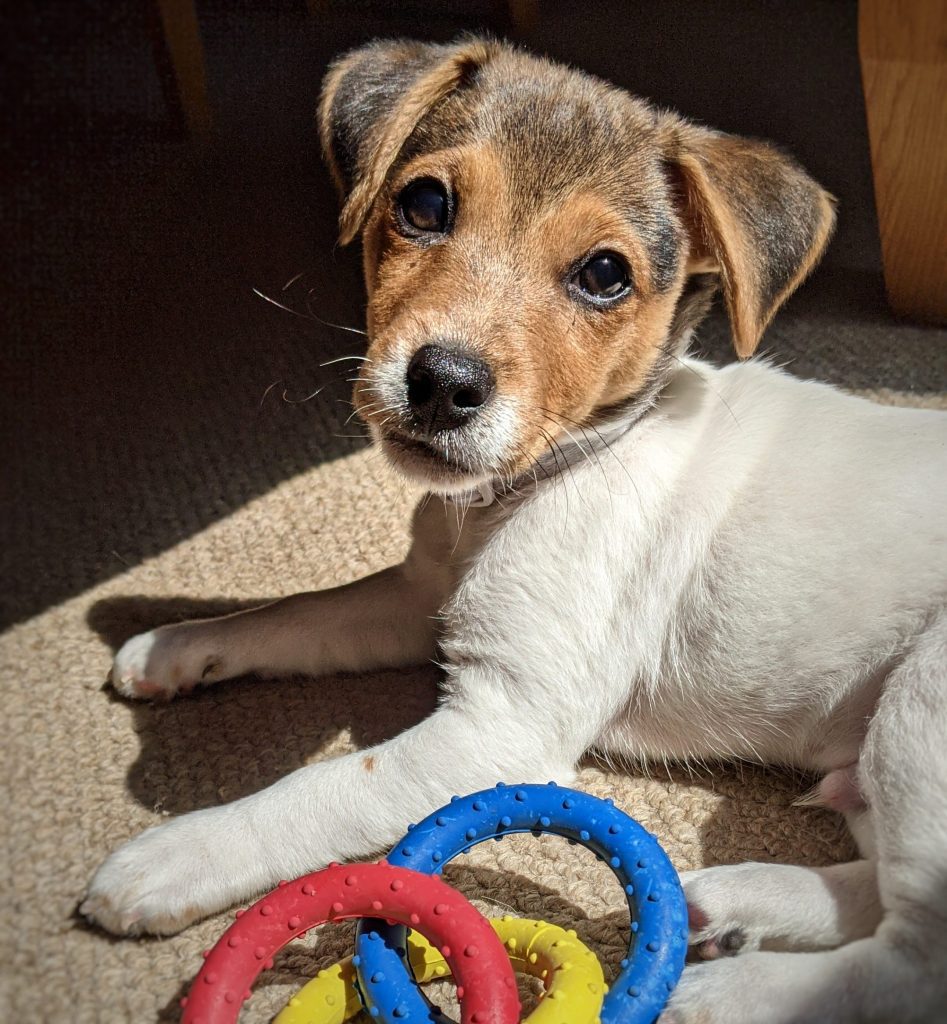 Allow Plenty of Zoomies
Zoomies are the occasional bursts of energy that your dog might have, and usually, it makes the dogs run in circles or spin around at great speed. Experiencing zoomies can be both startling and frustrating at the same time, but you have to make peace with them because you are going to witness them a lot while parenting a Jack Russell! Do you know your pronking from your splooting? Read these 10 weird dog behaviours explained, and which ones to worry about.
Let your Family and Kids Tire Out a Jack Russell Terrier
Jack Russell terriers are very affectionate, but are Jack Russell terriers good with children? As long as they are given boundaries, and the kids stick to the rules, they can develop a great bond with children and all family members. Let your children play with them in the yard, or take them to a picnic place or someplace near the lake to play different games like fetch. Always supervise to ensure your child's and your dogs' safety before you let them play.
How to calm a Jack Russell terrier – OVER TO YOU!
Jack Russell terriers are cute little packets of energy that you need to keep busy in order to keep them sane and positive. Unfortunately, if you don't have the energy and time to train your Jack Russell terrier, it's not the best dog breed for you. But the rewards to owning a well behaved Jack Russell are endless. If you have only just decided to own a Jack Russell terrier don't forget to try adoption, because even if they are pure breeds, they still end up in shelters and adoption houses.
This guest post was written by Myrah – Author Bio:
Myrah Abrar is a computer science graduate with a passion for web development and digital marketing. She writes blog articles for best family dogs.